Did you come here from a link on another website? See page bottom for latest version of this page.
This site is not associated with any ski area. Use of any page means you accept the SkiMyBest Site Use Agreement or EXIT NOW.
SkiMyBest:"Learn to Ski/Ski Better/Ski My Best" 2022-2023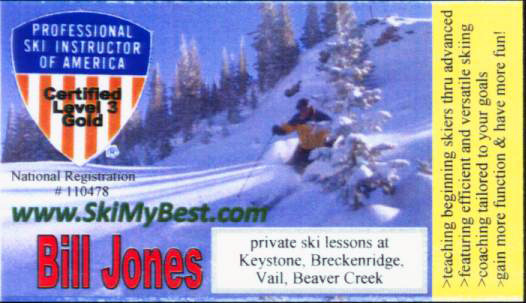 This free site is a compilation of ideas about skiing.
Go to SkiMyBest contentsafter accepting the Site Use Agreement or EXIT NOW.
This site tells how--
♦to take ski lessons--
♦to choose a ski area--
♦to choose a ski instructor--
♦to learn to ski/ski better/ski my best--
with the free web skiing manual Skiing is a Sliding Sport
♦to book private ski lessons with Bill Jones, certified ski instructor, see below.
Bill is NOT accepting reservations for lessons for winter 2022-2023.
If I have been fortunate enough to ski with you in the past, thanks for the opportunity. If not, let's give it a go!
Thanks for your support--Bill Jones.
HOW TO RESERVE PRIVATE SKI LESSONS WITH BILL JONES, SKI INSTRUCTOR--click here.
You are welcome and invited to contact me directly for information and ideas aobut private ski lessons. However, my schedule is kept by the Keystone Ski School so to ski with me you must also call them as instructed in the link above. I also state there that I only teach lessons as an employee of the ski school; to do otherwise is not only unwise but is also not legal. You may find the supply of instructors does not meet the demand for lessons at certain times and that you may not find any instructor, as we are all learning that even ski teaching has a capacity. To avoid this, book early. Thank you.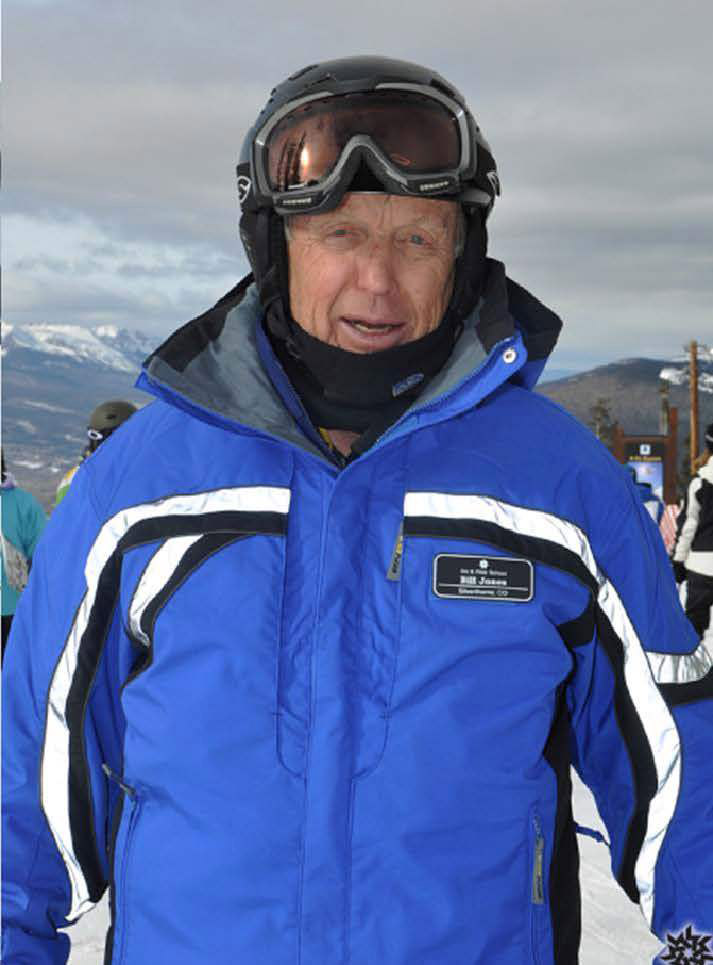 Bill Jones, 40th year helping Colorado skiers have more fun, waiting to meet you--
"Let's ski!"
Please contact Bill with inquiries but do not ask to make arrangements for lessons other than through the official Keystone Ski School-Why?
Note that neither Bill nor any other instructor can be reserved for group lessons.
Bill teaches alpine skiing--not snowboarding, in the terrain parks, telemark, racing, teelmarking, or cross-country.
He is available to coach older youth and adult beginners through intermediates and aspiring advance-level skiers.
He is not accepting younger families unless he has taught them before and he teaches only at Keystone unless a former client, and then is available at any Vail Resort and even beyond.